I remember the last time I played competitive football. The last game. The last play.
The final seconds as they ticked off the clock.
The tears in my eyes and all of the guys on the field on both sides whose day ended the same.. there was no professional career.
The game was over.
We had played football since we were young.
We played with teammates who filtered out of the game along the way… who weren't lucky enough to play in college.
I remember removing my pads for the last time knowing this was the end.
An empty void emerged.
Football required a lot of time and energy… and focus on and off the field.
Workouts, practices, meetings, eating right…
… and basically losing my support team of coaches and friends.
I had been dreading the moment it would all end.
Why am I telling you this? Because golf CAN end for you.
Ignore your health…
your fitness…
eating decent… and you may face a similar fate.
What would you DO if you couldn't play golf again?
Unfortunately, I see it time and again with my students.
Guys who have to drop the game because of poor health.
The good news is that it doesn't have to be this way.
YOU can take your health more seriously, TODAY.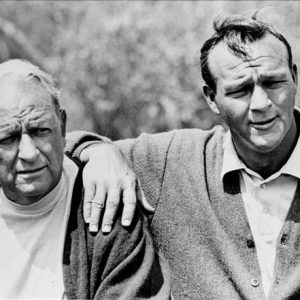 TAKING CARE OF YOUR HEALTH IS THE #1 THING YOU SHOULD DO IF YOU ARE SERIOUS ABOUT PLAYING GOLF WELL… AND PLAYING IT LONGER.
Personally, I'd like to play golf until the day I die, just like Arnold Palmer's dad Deacon did. Taking care of your health NOW can increase how long you play… and how well you play.
Plus, you'll just feel better.
Just do what you need to do.
Let's get more serious.
Let's treat each day as if it were our last.
Let's go to battle together.
There's hundreds of members inside my Get Golf Fit Academy… and I've got EVERYTHING you need.
Diet plans.
Workout plans.
Group support.
Coaching from yours truly.
And all of it's printable, usable from a mobile device, and easy to understand.
Come join us on the inside at:
Chris