post-round stretches for your lower back
A round of golf is often enjoyable, but for many golfers lower back pain creeps in on the back nine. A good afternoon turns in to a struggle to finish your round. Even worse, low back discomfort will disrupt your consistency and ultimately drive your score up.
I call this the dreaded "Back Nine Fade."
When you are tired or aching, it's hard to deliver a consistent strike to the golf ball. Low back pain can be caused by a combination of a weak core, tight muscles and even overly strong muscles. A sedentary lifestyle (sitting at a desk all day) is most likely the cause of most golfers' problems.
While some back issues require chiropractic care or surgery to alleviate pain, most low back pain can be fixed during the course of a few months. Performing the proper exercises, stretches and mobility drills can help bullet-proof your low back. However, be sure you talk to your doctor or chiropractor before performing any sort of physical exercise routine.
The best place to begin bullet-proofing your low back is by implementing an "after round" stretch to provide relief from stiff muscles. Not only will you get instant relief from the stiffness, you will actually be performing preventative maintenance.
It's important to note that stretching is just one part of the total equation.
Proper Stretches + Proper Strength Training = Healthy Low Back
While the stretches (provided later in this article) will get you standing up straight after a long day on the links, you need to consider adding a consistent core fitness routine. In fact, Dr. Stuart McGill suggests that people who are able to hold a plank for two minutes are much less likely to experience any type of back pain.
Although we don't cover a core strengthening program in this article, I felt it necessary to suggest it along with the following after round stretching program below.
The following routine can be done in the locker room or when you get back to your home. I recommend doing these exercises once you get home because driving home might cause your low back to tighten up again. Besides, doing a downward dog in the 19th hole won't win you any friends.
Top three stretches to do AFTER your round of golf:
Butterfly stretch for 60 seconds
Downward dog for 60 seconds
Kneeling hip flexor for 60 seconds
Bonus Stretch
Backswing angel for 60 seconds
Perform the above circuit with no rest between stretches. Repeat if you wish or are feeling extra tight.
Butterfly Stretch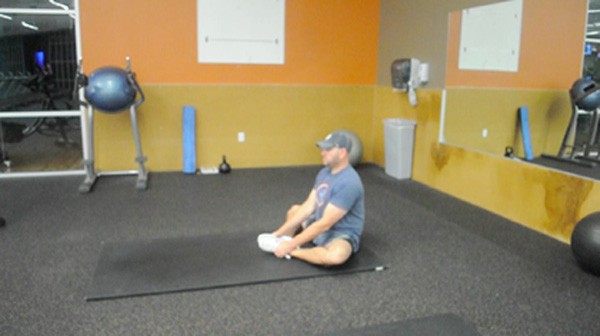 Sit on the floor with knees bent and feet together.
Hold your toes down with your hands.
Tuck your chin and pull your forehead toward your toes.
Feel your groin, but put emphasis on your lower back.
Hold for a count of eight.
Repeat for required number of sets.
Downward Dog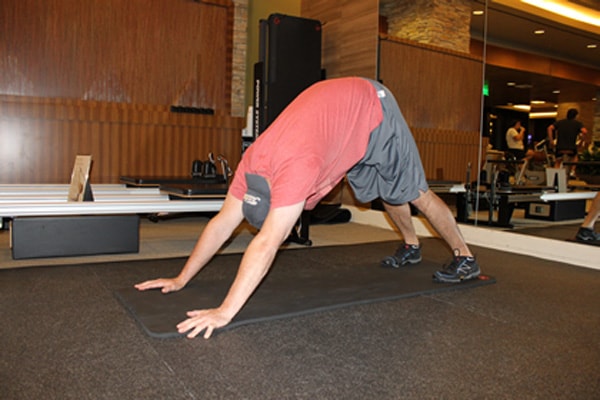 Really focus on calf muscles and try to get heels to touch floor. This may take time, but is integral in helping to create more power, length and tension in your swing.
Come to your hands and knees with the wrists underneath the shoulders and knees underneath the hips.
Next, curl the toes under and push back raising the hips and straightening the legs.
Spread the fingers and ground down from the forearms into the fingertips.
Outwardly rotate the upper arms broadening the collarbones.
Let the head hang, move the shoulder blades away from the ears toward the hips.
Engage the quadriceps strongly to take the weight off the arms, making this a resting pose.
Rotate the thighs inward, keep the tail high and sink your heels towards the floor.
Kneeling Hip Flexor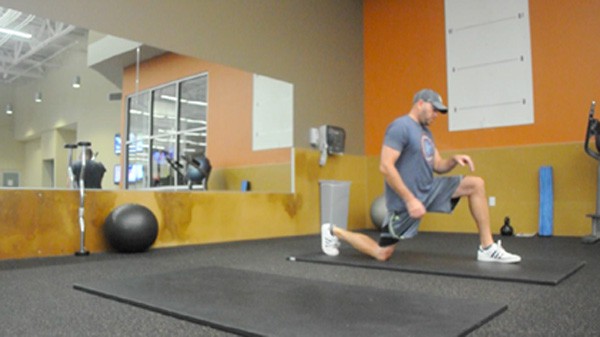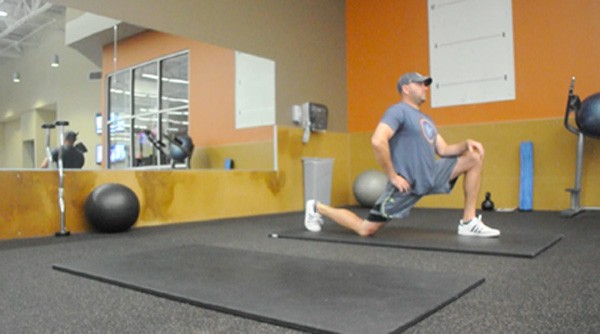 Tight hip flexors cause bad backs, monkey butts and athletic inferiority. When flexors are tight, they do not allow your glutes (strongest muscle in the body) to exert themselves efficiently.
Kneel on floor and face forward.
Your torso and front shin should remain upright for the duration of the stretch and hips should remain squared.
Flex your abs to protect your back.
Once the tension is released you will begin to sag down.
Let's take this a step further so you can see how this can impact your backswing.
Leaning forward, place your hands on your knee not letting your knee drift forward.
Begin to twist and look out, do not look down.
Backswing Angel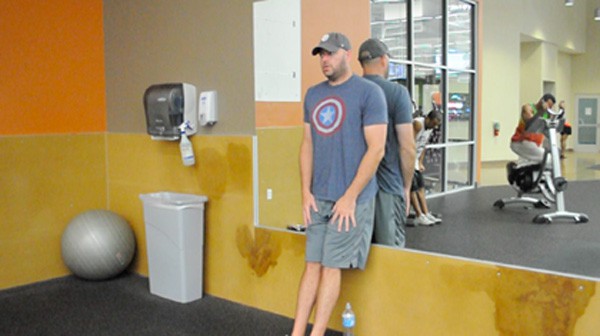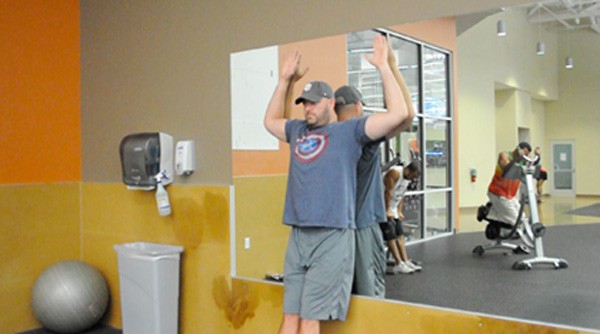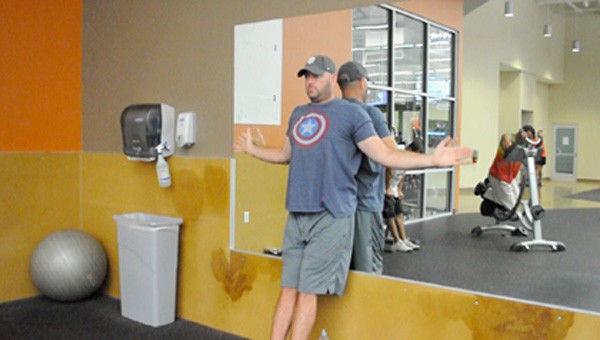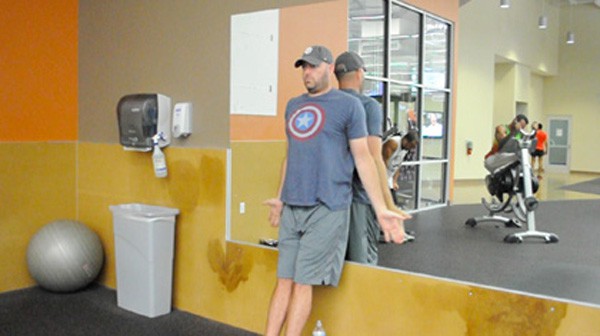 Muscles: Rhomboids (upper back), posterior deltoids (shoulders)
Stand with your back against a wall. Your feet should be six inches away from the wall and your butt, upper back and head should all be in contact with the wall at all times in the exercise.
Stick your hands up overhead. Try to keep your shoulders, elbows and wrists in contact with the wall at all times.
Slide your arms down the wall and tuck your elbows into your sides. This should bring your shoulder blades down and together. You should feel a strong contraction in the muscles between your shoulder blades as well as the shoulder muscles.
Again, try to keep everything in contact with the wall.
From the bottom position, try to slowly slide your arms up until they are straight and in a "stick-em up" position. Again, try to keep everything in contact with the wall.
Try to improve your range of motion in this exercise each week.
The goal is to improve shoulder mobility and postural control.

TIP: This exercise can also be performed laying flat on your back on the ground. It might be easier for you to start on your back at first and work up to the standing version.
Give this routine a try and please post a comment. I would love to hear from you and if these stretches helped you. In addition, feel free to suggest stretches or exercise that have helped minimize or eliminate your low back pain.
Chris
PS. Check out my Rewind Flexibility Bundle if you want 6 full stretching and flexibility routines you can perform in just a few minutes:
Get the Rewind Flexibility Bundle here: https://getgolffit.com/rfb/
There are 6 different flexibility routines in Rewind… all focused on unlocking your body for better movement and improving your neural pathways for better athleticism.

Click here to see how it works (all with detailed video's and printable follow along routines.

I've also added in the Tour Pro Warm Up and my EMF (Early Morning Flexibility) routine that is like drinking a pot of coffee without the crash.
Give these stretches a try and hit 'reply'… let me know how you feel after your next round.