The reality of putting?
It makes up to 40 to 50 percent of our scores.
Keep reading and I'll tell you how you can
reduce that percentage by implementing tools
the pro's on tour use.
A few weeks ago, I was able to play golf in Las
Vegas at Bear's Best.
Bear's Best is a collection of 18 of Jack's favorite
holes compiled in to a single golf course.
Here's a picture of the course: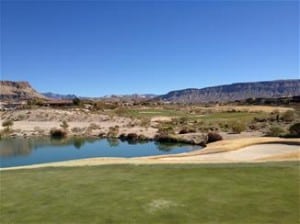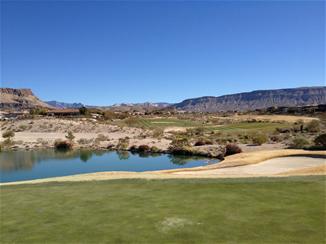 You might also remember that we ran a Facebook
contest last month and gave away a driver for
the "Guess this Hole" contest.
Bear's Best just happened to be the correct
answer to win the driver.
There's also a Bear's Best in Atlanta, although,
I've not gotten to play it (if you have reply back
to this email and let me know what you think).
In Vegas, I was paired up with two other
pretty good golfers. One guy was a scratch and
had the game good enough to be on tour. We
will call him 'Dick'.
His playing buddy wasn't nearly as good and when
we tee'd off I figured him to be a low to mid 80's
shooter. We will call him 'Father Flatstick'.
Dick was an excellent putter. Anything inside of
6-feet was a sure thing.
Dick rarely missed fairways and greens, and
he made putts. He wasn't perfect, and he did have
to use the putter to save some strokes.
If Dick wasn't such a fantastic putter, I would
guess he would come in around the 79 to 80
mark.
So what did Dick shoot?
73. 
Par was 72.
Dick had never played Bear's Best before.
Father Flatstick couldn't be more opposite
than Dick … the front 9 he needed a camel he
was in the desert so much.
The thing that stuck out to me was how good
Father Flatstick was on the greens…
… he was every bit as good as Dick.
He was making every short putt and
nuzzling up long putts to easy tap in range.
Father Flatstick shot a 76.
That's pretty impressive considering he wasn't
even close to the ball striker that Dick was.
The point is, we can bomb long drives and even hit
it stiff… but none of that matters to your score
if you can't putt.
If you want a to score well, even if you aren't
the best ball striker in the world, then here's what
you need to do:
First, you're going to get  Steve Elkington's "The
Reality of Putting". This isn't some special stroke
you need to learn…
…this is the nuts and bolts of putting. Use your own
putting stroke… but learn the tactics tour pro's use
to deal with pressure, changing green speeds, and
reading greens.
Grab "The Reality of Putting" program here
Second, once you have his program, send me a
copy of your receipt to:
And I'll send you my "Pre-Round Warm Up" – for
free. My gift to anyone who gets Steves's program and
starts working towards mastering their putting game.
==> Get The Reality of Putting PLUS "Pre-Round Warm Up"
for free
Steve's program is an easy to watch video with
all the secrets the pro's use to deal with pressure,
read greens, and visualize putts going in the hole.
He even reveals how tour pro's anticipate the
speed of greens while playing in changing
conditions.
Once you have his program, send me a
copy of your receipt to:
And I'll send you my Pre-Round Warm Up for free.
Let's get in golf shape,
Christian Henning, NASM-CPT, gfs,
CTT Certified Turbulence Trainer
P.S. I'm still putting the finishing touches
on the A-Game Body Coaching program. This will
be first come first serve, so please keep an eye
on your email.