Are you being too hard on yourself?
Yeah, I thought so. I know I am.
Most of us are constantly comparing ourselves to the 'ideal' self.
I will link up later in this post to some audio's that will change your life. I'll tell you right now
that until recently, I would compare myself to the 'ideal'.
So what is the ideal self? Perfection.
A perfect body. A 0 handicap. Incredible hair (like Mr. How to Break 90 Robert Phillips).
However, there is nothing in this world that is perfect. If you continuously chase perfection
and the ideal self, you will never be happy, I know.
Consider the following metaphor…
The ideal self (perfection) is the horizon.
Imagine the sun setting in the distance and you want to get to the horizon before the sun sets.
No matter how hard you physically try, it's impossible to keep the sun from setting (no smart
ass spaceship comments please –  you know who you are).
The problem is that you will never reach the horizon. The ideal or perfect self is the same
thing.
I hate to break it to you, but your momma lied to you. You aren't perfect, you never will be.
No matter what you achieve, if you keep comparing yourself to the ideal self, you will never
be satisfied.
As a golfer, you understand the pursuit of perfection and the difficulty. What you may be
missing is enjoying and celebrating the moments where you are great.
Rule #1
Stop Comparing Yourself to the Ideal Self
Rule #2
Set goals on a consistent basis in short chunks of time.
Take a look at the following chart I sketched out.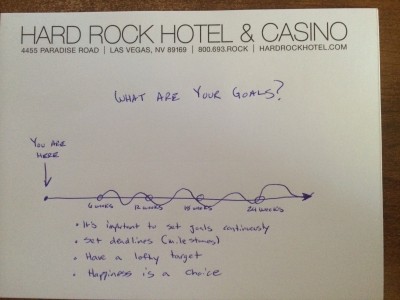 As you can see, there are little circles at set periods of time I call milestones…
You need to line out goals you wish to achieve over a long period of time. When you reach
a milestone you set a new goal.
See the wavy line on my chart? That's the ups and downs of life. You will have good
weeks and bad weeks.
It's important to show up every day and work through it all.
If you are dealt a setback, that's fine, deal with it. Keep moving forward.
There are no straight lines to success. We can go through dark days and weeks, never feeling
like our place in life will change. The fact is, they will, things will get better.
Let's say your goal is to break 80 or 90… your milestones may look like the following:
6 weeks
improve endurance by losing 3 pounds of fat
lower putting average from 35 to 33
12 weeks
lose 2 more pounds of fat,
lower putting average from 33 to 31
18 weeks
change workouts to focus on adding 5 yards to every club
improve chipping so you can place a ball within 5 feet of the pin from any location
around green
24 weeks
add 5 additional yards to every club
improve chipping so you can place a ball within 4 feet of the pin from any location
around green
Stay the course.
Milestone Chunking
Staying the course is easier when you use milestone chunking.
Chunking is where you break up long periods of time into shorter periods of time. I prefer
6-week chunks. Each chunk contains goals and a mini action plan.
Each milestone is broken down into achievable and reachable goals. Ideally, leading up to a
major goal that is set at a milestone 6 months or more away.
The secret is to keep the milestones achievable and broken down so the time periods are not
too long. Too long of a period, and you are setting yourself up for failure.

Example:
* Lose 2 pounds of fat will require reducing calories by XX per day over a
period of 6 weeks.
You should also include HOW you will obtain the above.
Example:
* Purchase Shed Pounds to Shave Strokes and exercise 3 days per week.
* Eat better quality foods.
Continuous Goal Setting
Perhaps the most important aspect of being happy is to understand goal setting and how it
applies to the ideal self.
Most people on January 1st set a goal and that's the end goal. For example, they want to lose
10 pounds.
So what's next?
Once they reach their goal? What are they going to do next? For most people this is the end
of the road.
What's worse, they look in the mirror and say, I don't look how I thought I would look and
then quit.
This is comparing yourself to the 'ideal'.
Change Your Perspective
Do yourself a favor and look back where you WERE. You were 10 pounds heavier, and
your endurance on the golf course sucked.
Today, you are 10 pounds lighter and feeling better, looking better, and playing better.
Change the perspective and celebrate what you achieved.
Journal Your Success
It's important during the process to journal your success and failures. In fact, I still have my
workout logs from college. Inside of the binders are notes on what I ate, how much weight,
even the time of day and how I felt.
A golf journal would be beneficial to improving your game now and in the long run.
If you don't want to use a journal, use a recorder or the notepad on your phone.
In addition to using a journal for tracking how you are working towards your goals, you can
also use it to freeze swing thoughts in time.
When I am hitting the ball exceptionally well, I write down exactly why. My swing thoughts,
the feeling of the stance, grip, how my tempo feels.
When you hit a bad stretch, this information can get you back on track.
Happiness is a choice
It's not important if you reached your goal or not when a milestone date approaches.
Many folks get depressed if they fail to reach a goal. Don't beat yourself up.
What's important is that you change your perspective (see above). Learn from your mistakes,
adapt, and continue on. Celebrate the small victories just as much as the big ones.
Any progress is good progress. You got better, not worse. Do not quit.
Drop a 20-footer for par?
Don't breathe a sigh of relief and think about how that could have been a bogey or double.
Instead, act more like Tiger Woods when he slams down a bomb putt.
Fist pump baby!
Fairways and Greens,
Christian "Success is NOT a straight line" Henning
PS. Click here to access the free audio course I promised you earlier.