Yesterday, we discussed using kettlebells in your golf training. Kettlebells have many benefits for golfers, and to be honest, they haven't been used by many of the top golf fitness instructors.
That's about to change… in fact, today we interview Michael Skogg, kettlebell expert and founder of the Skogg Method. He's created a short circuit you can use in your existing workout programs or as a stand alone program.
If you missed yesterdays article, you can click here to check it out. There is some interesting scientific proof concerning kettlebells included.
Listen to the following interview as Michael reveals a kettlebell circuit custom designed for golfers. He also explains the benefits of kettlebells and how to use them for more power…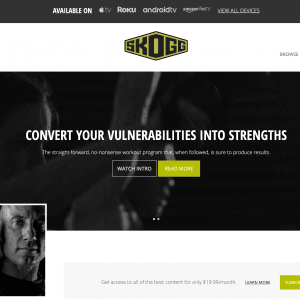 About Michael Skogg – Michael is a world-renowned kettlebell coach, educator and author. He is a leader in the fitness industry as well as an inspiration to all who have trained and learned from him. His long history working with kettlebells, understanding of how the body works, and the unique workouts he has created make him a standout in kettlebell training. Michael was introduced to kettlebells by a Highland Games competitor over twenty years ago while stationed in Scotland with the U.S. Military. He was frustrated with his training program, which often left him injured and sore.
He instantly saw the superiority of this full-body training, and has continued to evolve and refine his own kettlebell workouts to develop the SKOGG Method. Because Michael is educated in sports injury rehabilitation and corrective exercise, he has a unique approach to strengthening and conditioning the body. Michael's approach to kettlebell training emphasizes converting vulnerabilities into strengths, bringing out the full potential of every part of the body. His clients have watched their bodies transform, even those suffering from injuries they were told they would otherwise never have fully recovered from. He has trained everyone from professional athletes to workout buffs to those who are just beginning to exercise for the first time.
It's about mindful movement, and anyone can do it.
Click here to visit Michael's website and to learn more about him.
I hope you enjoy today's interview, I certainly enjoyed speaking to Michael.
Christian "old skool is new cool" Henning
P.S. Tomorrow I'll put together a step-by-step tutorial on how to perform all of the exercises Michael discusses as well as the routine for golfers he created.
P.P.S. I suggest you join Michael's Virtual Skogg website if you are interested in using kettlebells to improve your golf game.