Most golfers know that when you can maintain your balance, you have a better chance of hitting a good shot.
Balance comes in many forms…
A good tempo that allows you to swing the club in a good rhythm can keep you in balance.
A balanced golf shoe can even help you maintain balance as well (high-heel golf shoes are dodo birds in professional golf these days). In fact, later this week I will be reviewing a pair of golf shoes that are supposed to not only improve balance, but also lighten the load so you are fresh late in the round.
However, one form of balance is often overlooked entirely…
Lop-sided golf balls
Golf ball manufacturers make great balls these days. However, not all balls are perfect.
Some balls are out of balance or lop-sided.
Slightly out of balance balls WILL cost you strokes on the putting green.
Consider the following odds against you:
You must factor the speed of the green.
You must factor the grain of the green.
You must factor the wind (Texas, UK, Oklahoma, etc..)
You must aim properly.
You must apply the proper force and spin to the ball.
Let's say you get all of the above right……
… let's say you stroke the putt perfect …
… and still miss.
Well, it's probably due to your ball not being perfectly balanced.
An out of round or unbalanced ball can be the difference between a make or a miss at the three foot range. On a long lag putt, it can be a foot or more. Dave Pelz has talked about this for ages, but it seems no one really talks about it.
Sure, balls manufactured today are of the highest quality. However, NOT ALL are perfect.
I recently tested a dozen Pro V1's.. arguably the best ball you can buy. Out of that dozen, how many do you think were perfectly balanced?
6.
So out of a dozen balls, only a handful are balls I would play with in a match that matters.
If you are playing with a cheaper ball, your percentage may be even less than 50%.
The reality is, this is something you can control!
You have the opportunity before you ever tee off in the club championship to ensure you have the best equipment…
… make sure a balanced ball is among those.
So tomorrow, I will show you how to gain a secret weapon you can use to dominate your buddies on the golf course.
[ ———– TOMORROW'S TIP ———–  ]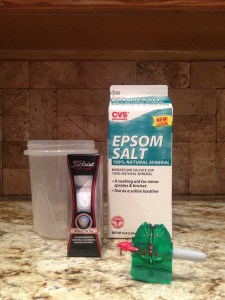 I will teach you a trick the tour pro's and top-level amateurs use to KNOW their ball is perfectly round.
It's easy and only takes a few minutes.
This is a true confidence builder for your game.
You will be able to easily separate the good from the bad.
All you need are the following items:
A place where your lady won't kill you for making a mess

Epsom Salts

Ball marker and Sharpie

Container

Sleeve of brand new balls
[ ———– /TOMORROW'S TIP ———–  ]
Fairways and Greens,
Chris "I tell the ladies my balls are perfectly round" Henning
P.S. Balance isn't all about equipment or drills…
I've created a special beginner workout for you later this week to implement. You can do it with your existing workout and in your own home. Easy, peasy, lemon squeezy. 
See you tomorrow.