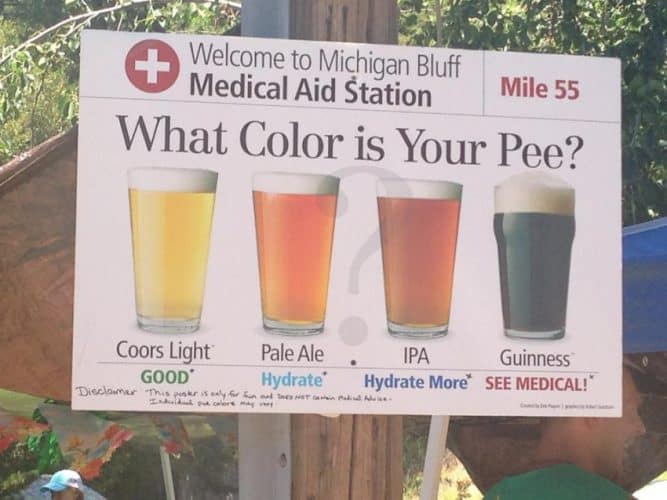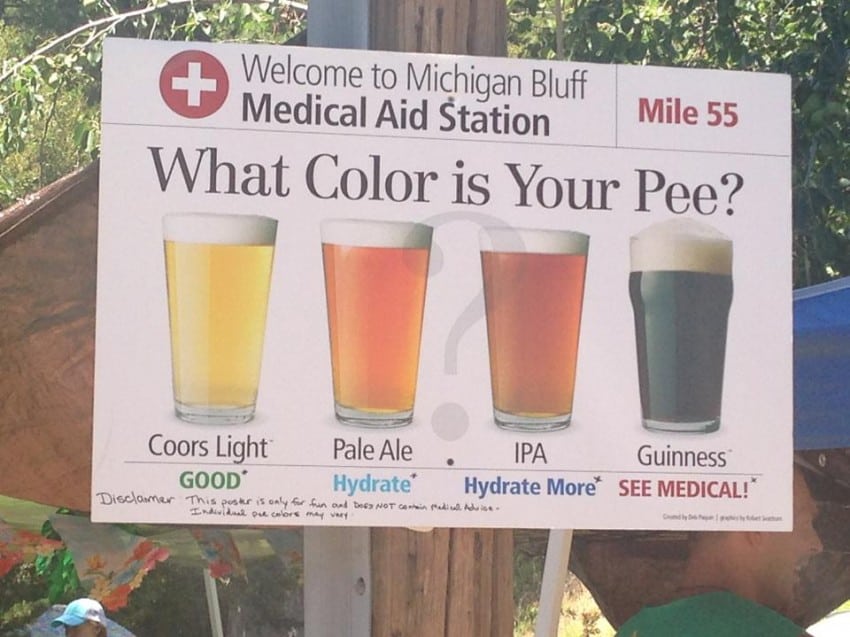 Is this EASY TO SOLVE PROBLEM zapping up to 14 yards from your clubs? It's true: Dehydration can cost you up to 14 yards! It can also cause you to mis-judge distances, and KILL your accuracy.
Before I get into the scientific research, let me tell you about how dehydration ruined a 'bucket list' round for Rich.
Rich (our tamed Australian Professional Golfer) sometimes experiences migraine headaches.
In fact, just a few years ago a migraine ruined a perfect day. Rich and I were at a conference in San Diego and set aside an extra day to play Torrey Pines. This was our first time at Torrey.
The morning started out cold and foggy… usual for Torrey the time of year we went.
Rich's day was off to a horrible start – he had a HUGE migraine. I felt really bad for him because he had been looking forward to this day for months. The first 9 holes was brutal and I gave him basically all of the Ibuprofen I had in my bag.
Luckily, the fog broke and the sun came out. The weather returned to sunny and 72.
However, Rich was in bad shape.
Looking back, we had a late night before at a conference party… and since then, Rich has determined that when he is dehydrated, that's when his migraines hit.
… so how can dehydration affect your golf game?
Quite simply, mild dehydration impairs your cognitive-motor task performance. Mild dehydration can impair distance, accuracy, and distance judgement during your round of golf.
Mild dehydration can be determined through the color of your urine. To make thing's easier for you, I found this urine color chart…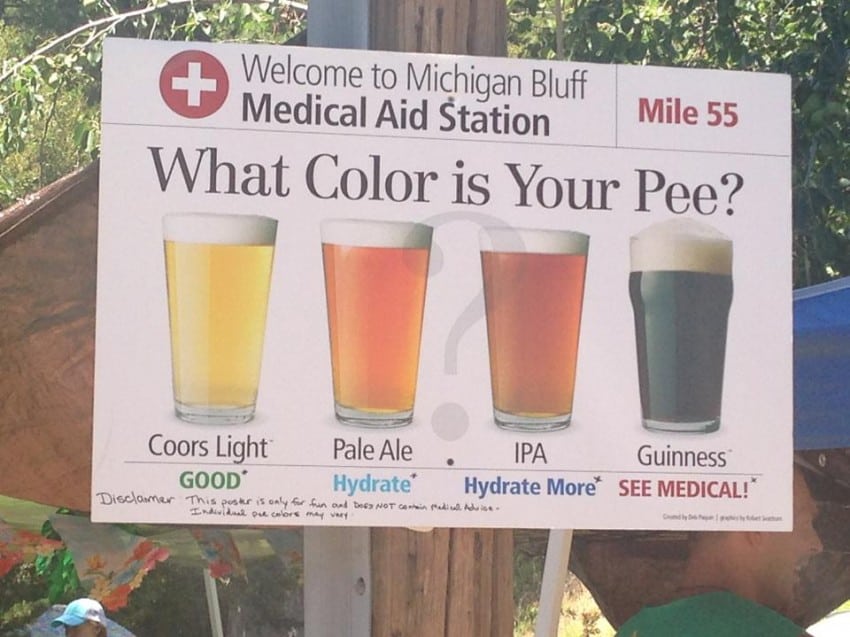 NOTE: Dehydration can also occur as a result of drinking too much alcohol. Alcohol is a diuretic, which means that it makes you pee more. The headache associated with a hangover indicates that your body is dehydrated. You should try to drink plenty of water when you have been drinking alcohol.
And I'm not just blowing smoke out of my arse here, I've got PROOF from the November 2012 edition of the Journal of Strength & Conditioning Research.
The study included 7 low-handicappers (roughly 3 handicap) who completed several golf performance tasks. The focus of the study was to see how dehydration would affect distance judgement.
Each golfer hit 30 golf balls, with 10 warm up swing prior to starting. The participants were randomly given a 9, 7, or 5-iron and asked to hit to a designated target.
The results were then measured and the golfers sent away.
7 days later the golfers returned in a dehydrated state. They were restricted from fluids for 12 hours to reach a state of mild dehydration. The results were pretty amazing:
Mildly Dehydrated vs Fully Hydrated
Shot Distance: 114.6 meters Dehydrated vs. 128.6 meters Hydrated
Off Target Accuracy: 7.9 meters Dehydrated vs 4.1 meters Hydrated
Error in Distance Judgement: 8.8 meters Dehydrated vs 4.1 meters Hydrated
… and for the Americans who will NEVER convert to metric (we just like being difficult):
Mildly Dehydrated vs Fully Hydrated
Shot Distance: 125.3 yards Dehydrated vs. 140.6 yards Hydrated
Off Target Accuracy: 8.6 yards Dehydrated vs 4.4 yards Hydrated
Error in Distance Judgement: 9.6 yards Dehydrated vs 4.4 yards Hydrated
So now that you know that dehydration can impact your accuracy AND the distance you hit a ball… what can you do about it?
One suggestion is to toss a few bottles of water and a hydration supplement into your bag. I use Gatorade mix in, 4 bottles of water, and drink two bottles every nine holes.
If you want to learn more about using your body to improve your golf score, join us below:
https://getgolffit.com <=== Click Here
Sometimes it's the little things that add up to make a HUGE difference on your scorecard.
Join us on the inside:
https://getgolffit.com <= Improve your body and LOWER your score
Let's do this.
– Christian
P.S. Up for a good Challenge? Try playing two rounds in a fully hydrated state, drinking two bottles of water WITH Gatorade mix in per 9 holes. Then play two rounds after NOT DRINKING water for 12 hours. I'm curious to see the results in the real world.
P.P.S. Here's the summary of the research.
Journal of Strength & Conditioning Research:
November 2012 – Volume 26 – Issue 11 – p 3075–3080
doi: 10.1519/JSC.0b013e318245bea7
Smith, MF, Newell, AJ, and Baker, MA. Effect of acute mild dehydration on cognitive-motor performance in golf. J Strength Cond Res 26(11): 3075–3080, 2012—Whether mild dehydration (−1 to 3% body mass change [ΔBM]) impairs neurophysiological function during sport-specific cognitive-motor performance has yet to be fully elucidated. To investigate this within a golfing context, 7 low-handicap players (age: 21 ± 1.1 years; mass: 76.1 ± 11.8 kg; stature: 1.77 ± 0.07 m; handicap: 3.0 ± 1.2) completed a golf-specific motor and cognitive performance task in a euhydrated condition (EC) and dehydrated condition (DC) (randomized counterbalanced design; 7-day interval). Dehydration was controlled using a previously effective 12-hour fluid restriction, monitored through ΔBM and urine color assessment (UCOL). Mild dehydration reduced the mean BM by 1.5 ± 0.5% (p = 0.01), with UCOL increasing from 2 (EC) to 4 (DC) (p = 0.02). Mild dehydration significantly impaired motor performance, expressed as shot distance (114.6 vs. 128.6 m; p < 0.001) and off-target accuracy (7.9 vs. 4.1 m; p = 0.001). Cognitive performance, expressed as the mean error in distance judgment to target increased from 4.1 ± 3.0 m (EC) to 8.8 ± 4.7 m (DC) (p < 0.001). The findings support those of previous research that indicates mild dehydration (−1 to 2% ΔBM) significantly impairs cognitive-motor task performance. This study is the first to show that mild dehydration can impair distance, accuracy, and distance judgment during golf performance.